Intuitive Office: An Office Automation Package
Datatek's Intuitive Office (IO) office automation package for Open Systems is virtually keystroke-for-keystroke compatible with Data General's CEO product. Since it has the same friendly user interface, there are no retraining costs. Intuitive Office is character-based, so you can use your existing terminals without the costly rewiring associated with LANs.
Some of IO's Features Include:
Compose and send messages and optionally attach files
Reply to and forward existing messages
Send urgent, certified, and eyes-only messages
Customize inbox display with advanced reformatting and sorting features
Create and use personal aliases
Create and use personal and public mailing lists
Share Inboxes
Integrate third-party software
Create document summaries
Create and use keywords for document searches
Specify user permissions for file sharing
Create personal reminders
Create address book
Create user directories
Create shortcuts for quick menu navigation
Use understandable filing structure (cabinet, drawer, folder, document)
PC users running Windows can be integrated with Intuitive Office via IO-Connection. IO-Connection, in conjunction with a variety of terminal emulators, provides transparent transfer of mail and documents to and from the PC. Also, you can move your existing documents from the CEO filing system to Intuitive Office cost effectively, using Eagle Software's Cabinet Converter.
Sample IO Screen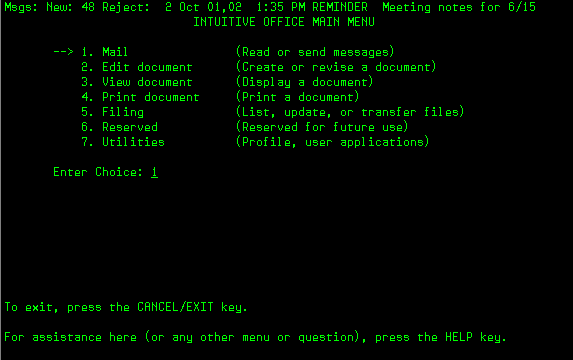 Products
Related Services
Strategic Partners
How Can We Make This Website Better?
If you've discovered a mistake, an ambiguity, or that some important information is missing from this website, please let us know.
© Copyright Datatek, Inc. 1994-2023, All rights reserved. All trademarks belong to their respective owners.