Browse: An Open Systems File Viewer
Datatek's Browse is an easy-to-use file viewer for Open Systems, available on AIX, HPUX, DG/UX, Solaris, and Linux. The viewer is an interactive character-based terminal application that allows users to view files in a variety of data formats, including ASCII and Hexadecimal. Users can position to a specific byte location of a file, search for strings, find the number of occurrences of a string, and request a notification of file change status. Additionally, multiple files can be viewed simultaneously.
Some of Browse's Features Include:
Multiple viewing formats (ASCII, Hexadecimal, ...)
Position to any byte in a file
Windowing so that you can view multiple files simultaneously
Find
String Count
Wait for change
EBCDIC conversion
Interactively scroll through a file by line or page
Since Browse was originally designed to be compatible with Data General's BROWSE viewer, Data General users will find Datatek's Browse very easy to use since it uses the same interface. If you are currently using utilities such as "od" to view files, you'll find Browse a much more useful and friendly tool.
Sample Browse Screen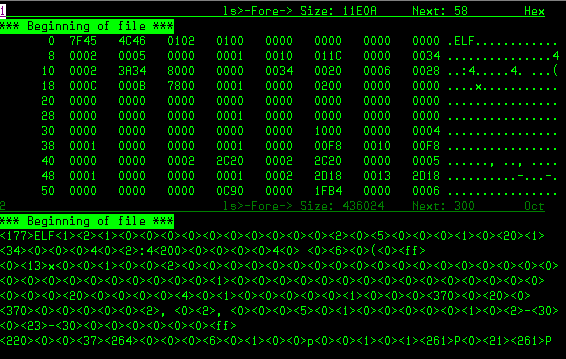 Products
Related Services
Strategic Partners
How Can We Make This Website Better?
If you've discovered a mistake, an ambiguity, or that some important information is missing from this website, please let us know.
© Copyright Datatek, Inc. 1994-2023, All rights reserved. All trademarks belong to their respective owners.